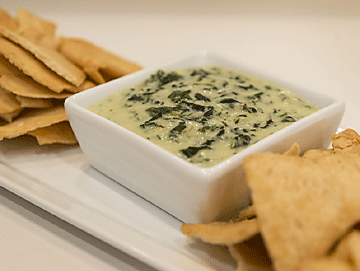 Dips and bread spreads
From
VeganWolf

Several dip recipes for crackers and vegis and for sandwiches too.
Edamame Spread:
1 ½ C cooked edamame soy beans
½ C fresh parsley
3 T tahini
3 T lemon juice
2 cloves garlic
Puree smooth
---
Tahini spread
¼ c ground sesame seeds/tahini
2 T water
1 t oil
1 t lemon juice
---
Roasted garlic and Sundried tomato spread
3/4 cup firm tofu
1 head roasted garlic
1/4 cup soy milk
1/4 cup parsley
2 tsps tahini
1 tbsp balsamic vinegar
1 tbsp soy sauce
1 1/2 tsps mustard (coarse grain)
1/8 tsp chili powder
2 tbsps sun-dried tomatoes in oil
---
Roasted garlic and white bean spread
1 head roasted garlic, Squeeze garlic from skins
1 15 oz cans small white beans (drain)
Any oil left in baking dish
2 T olive oil
1 T lemon juice
½ t salt
½ t fresh rosemary
Dash pepper
Puree smooth
---
Strawberry tofu spread
Sandwich spread or good for dipping fruit
12 ozs silken tofu (drained)
8 tbsps strawberry preserves
2 T agave
2 T lemon juice
Mix well.
---
Tips:
All are easy to double or triple..
Dips work great as a sandwich spread too
---
---
Custom Search
Bon Appetite!
---
Want to help keep Veganwolf up and running? 100% of Donations help maintain this site, and go only for promoting a vegan way of life.
(Clicking on Google Ads and Gourmet Ads also helps...)

---
Follow us on Twitter to get quick tips and hear when new vegan recipes are added

---

---
---
Have a great day!