Apple sauce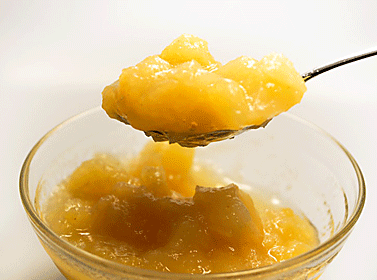 From
VeganWolf
Simple Apple sauce.
Ingredients
2 pounds apples (5 or so medium) core, and cut into rough 1 1/2-inch pieces. (You can peel them if you want, but I like the peels for added nutrition)
1 Tablespoon lemon juice
2 Tablespoons sugar or preferred sweetener equivalent.
Pinch table salt
1/2 cup water
1. Combine apples, lemon juice, sugar, salt, and water in med., heavy-bottomed pot. Cover pot and cook apples over medium-high heat until they soften, around 15 minutes, stirring occasionally.
Serve warm or cold
OPTIONS
Process cooked apples through a food mill or processor for smooth, even texture.
Season with extra sugar
add water to adjust consistency as desired.
Stir a little vegan butter into finished applesauce
Add 1/8 teaspoon ground cinnamon, or a whole stick of cinnamon while cooking
Add a little ground cloves, or star anise, or ginger, while cooking for different flavors.
Add 1/3 C red hot cinnamon candy while cooking
Add 1/2 cup dried chopped fruit while cooking
---
---
Custom Search
Bon Appetite!
---
Want to help keep Veganwolf up and running? 100% of Donations help maintain this site, and go only for promoting a vegan way of life.
(Clicking on Google Ads and Gourmet Ads also helps...)

---
Follow us on Twitter to get quick tips and hear when new vegan recipes are added
---

---
---
Have a great day!