Vegan Grilling Recipes
"Grilling and bbq recipes for vegis, tofu, more... Vegan,Cholesterol Free, Strict vegetarian bbq recipes. "
From: Vegan Wolf

Basic grilling tips:
Spray or Coat the metal racks with some cooking oil to prevent sticking
Preheat your grill to high.
Set the vegis over the hot spots.
Cover for about 5 minutes.
Flip the vegis over.
Baste with some more of the sauce and cover for 5 more minutes.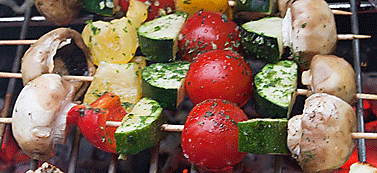 Extra Firm Tofu is perfect for the grill! It soaks up lots of the flavor of the sauce or marinade and the smokiness from the grill! Slice the block on half or in about 1 inch thick steaks and press it. ( Wrap it in a lint free cloth and set something heavy on top of it for at least 30 minutes.)
Marinate tofu for about 30 minutes.
You can grill almost any vegetable too. Obviously thick vegis take a longer time to cook, so consider blanching thick vegetables ahead of time, then grilling to reheat.
I prefer to have all vegetables around the same thickness, so they cook about the same time. Onion slices, red bell pepper, and mushrooms are great on the grill and take about the same time to cook as tofu.
You can marinate your vegis too or just brush with olive oil and sprinkle with salt and pepper, or other herbs.
You can also carefully skewer your items before you grill them. It is helpful to soak wooden skewers water for 30 minutes or longer before you use them, to prevent burning.
Premade vegan ribs are wonderful on the grill! Baste with more bbq sauce and grill for a few minutes each side too reheat.
Vegan Grilling recipes:
---
Custom Search
Bon Appetite!
---
Want to help keep Veganwolf up and running? 100% of Donations help maintain this site, and go only for promoting a vegan way of life.
(Clicking on Google Ads and Gourmet Ads also helps...)

---
Follow us on Twitter to get quick tips and hear when new vegan recipes are added
---

---
---
Have a great day!