VEGAN Food decorating and garnishes
People EAT WITH THEIR EYES is very true!
One can turn a plate of food into an art piece, and is often a big portion of what one pays for in an expensive restaurant
If you are cooking for others, whether your family or having a big party, it is really important to make the food look appetizing.
Below are some simple ideas for taking almost any plate of food and making it better.
Food Decorating ideas, garnishes, food art...
Simple GARNISHES
Just a sprig of parsley makes a big difference, or a shake of paprika... Little spots of color...
Carrot curls
Carrot Shreds
apple rings
Chives/onions, keep long or dice small
Edible Flowers
Herbs, leaves or finely chopped
Lemon rings, lemon peel, lemon wedge...
Oranges... rings, peel, wedge...
Olives, sliced green or black olives, or whole.
Orange ring with a black olive in the center...
Paprika... Just a sprinkle on something plain, like cauliflower, or a white soup..., now add a small sprig of parsley... beautiful!
Parsley. one sprig works magic. Or chop very fine and sprinkle over the plate
Peas
Pimento
Pepper
Tomato
You Want the garnish to compliment the meal though, and not make people wonder why it is there... and make sure it is ALL EDIBLE, (a flower) or very obvious if it is not! (a toothpick) Try to take your garnish from the ingredients in your meal... What flavors are in the dish, what herbs?
Simple sauces and infused oil
Dribble a few drops of olive oil around the plate or reduce a sauce to a thick syrup and spoon onto the plate, or drizzle on a soup, etc...
Colorful sauces and infused oils are easy to make and can turn your plate into art!
Infuse oil or soycream with herbs and flavors
Get creative
Put an infused oil or colored cream in a squeeze bottle and play!
A good way to get kids to help in the kitchen, and eat more vegis too!
---
Decorating Food: MORE info
---
Did you create something beautiful with garnishes? Send me a copy and I might publish it here!
---
Follow us on Twitter to hear when new items are added

---
---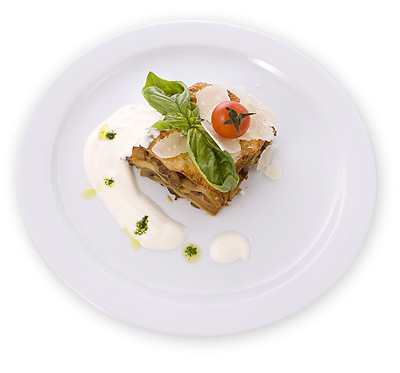 ---
---
---
NO ADs!!!
I am SO sick of seeing ads everywhere!
If you appreciate that, and want to help keep Veganwolf up and running, please consider donating. 100% of Donations help maintain this site, and go only for promoting a vegan way of life.
---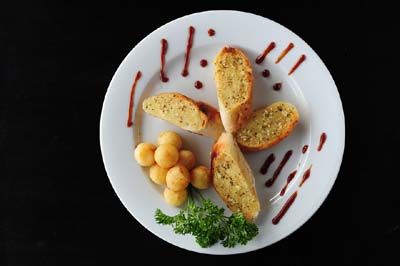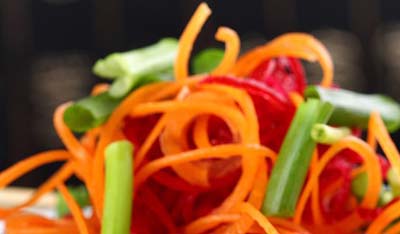 Have a great day!