Quick and Easy Recipes
"Homemade Vegan,Cholesterol Free, Strict vegetarian Quick and Easy recipes. "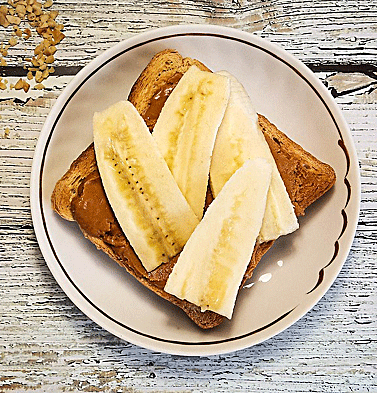 From: Vegan Wolf

Favorite Quick and Easy Recipes:
Peanut Butter SandwichGood ol PB and J
options
Add: Jam, agave nectar, celery, peanuts, raisins, grated carrot, banana, dried fruit, other nuts, crushed potato chips, chocolate chips, grated coconut,
Use a tortilla instead of bread... PB, banana... mmmmm Maybe chocolate chips, or bacos....
Tofu Egg salad sandwich
Mash silken tofu with a little mayo, and a little mustard.
Add options as desired, Chopped onion, pickle relish
Spaghetti and canned sauce
Ramen noodles work too anytime you want quick pasta! (Nissan brand, oriental flavor is vegan)
You can also find pre cooked pasta in Asian stores
Other easy pasta options:
Olive oil, basil, garlic salt, crumbled tofu. Sauted vegis, diced tomatoes
Sundried tomatoes in oil, crumbled tofu, sauted mushrooms, black olives, garlic salt.
Oriental Pasta: Cooked vegis and soysauce... tofu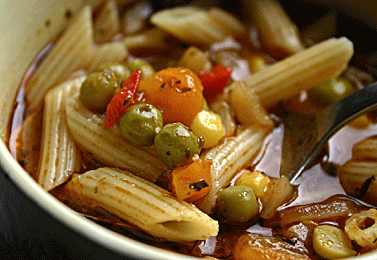 Soup noodles
Pour canned soup (vegi, lentil) over pasta, or cooked potatoes, or rice...
Vegan Ramen Spaghettios
Cook ramin noodles in canned tomato soup. Add pinch of oregano, garlic salt, and basil
Vegan Ramen mac n cheese
Prepare ramin noodles. Drain, add some vegan margarine (2 T), soy milk (1/2 Cup) (only use plain unsweetened with only soybeans and water on the label), nutritional yeast (1/3 C) Garlic salt and pepper.
Spicy peanut noodles
You dont have to measure exact, or even heat it, if you can't, but I included the full recipe cause it is so good.
Heat a little oil, add: 1 garlic, 1 T sesame seeds, shake of crushed red pepper. Saute a minute or so... lightly toast seeds. Add: 1/4 C peanut butter, 1/2 C water, 1/2 package of vegan ramin soup powder or vegi broth, 1 T lime juice, 1 T sugar, 1 T soy sauce... Taste, adjust for red pepper/sugar...
Mix into 1 package Cooked Ramen. Serve cold over lettuce, shredded cabbage, and bean sprouts, crushed peanuts. Or fry tofu, and serve hot perhaps over shredded raw cabbage...
Quick and easy Mexican
Bean Burrito
Canned Vegetarian refried beans on a flour tortilla, salsa
Alternative: Tortilla chips, Lots of lettuce for a salad.
Options: Lettuce, onions, vegan sour cream, tomatoes, vegi burger, Spanish rice.
Spanish Rice
Cooked rice mix in Salsa
Creamy Mexican Dip
Mix Can of refried beans with taco sauce, or salsa.
Options: add any of the following ingredients.
Chunky Mexican Dip Great with chips or add lettuce for a salad.
Can or 2 of black beans,Can of corn,Salsa or (chopped onions, bell peppers, tomatoes), Black olives, Splash of lime juice or vinegar, Spoon of oil, Small spoon of chili powder or hot sauce for spicier. Salt and pepper
Baked Potato
Poke a few holes in large russet potato, microwave 5 minutes, or until it is soft.
Top with cooked vegis, canned vegi chili, canned soup, nutritional yeast, gravy, bacos,
Quick sushi
Wrap rice inside a nori seaweed sheet. Dip in wasabe or hot mustard sauce,(dry mustard with a little water) and or soy sauce. Add avocado, shredded carrots or other vegis if desired
Hummus: Bread spread or vegi dip
Mash (or blender/process) Canned chickpeas, garlic salt, scoop tahini (1/4 C), splash lemon juice (3 T).
Options: add sweet pickle relish, black olives
Use any bean, different spices, celery, onions, real garlic, cumin
Easy Rice and vegis
Saute' chopped vegis, onions, carrots, cabbage, zucchini, mushrooms, whatever, in a little oil for a couple minutes. Add broth or soysauce if desired.
Serve over rice
Easy Fried Rice
Saute' very small diced vegis, onions, carrots, cabbage, zucchini, mushrooms whatever, in a little oil for a couple minutes.
Add leftover cooked rice. Stir until heated through.
Sprinkle with a little soy sauce, a spoon of vegi broth powder, and a tiny bit of molasses.
Easy Pizza:
Use Vegan English muffin, or french bread, or vegan hamburger bun for crust. Toast lightly. Add sauce and toppings of choice. Broil until warm.
Easy Soup
Chop small and Saute' any vegis, (onion, carrots, celery, broccoli, cabbage)) add water, garlic, salt, broth powder.
Options: Add pasta, spices, Plain soymilk (only soybeans and water on label), tomato juice…
Easy creamy Tomato Soup from juice
Mix together, 1 T flour, pinch sugar, 1 C plain unsweetened soy milk (only soybeans and water on label) Heat and stir until thickens. (8 minutes) Slowly add 2 C tomato juice, Heat and eat. Season with salt and pepper, dash of oregano, basil, garlic, broth powder...
Tofu Scramble Plain or with vegis
Saute' chopped onions, bell peppers, mushrooms, in a little oil until cooked, about 5 minutes. Crumble soft silken tofu into pan. Sprinkle with a scoop of nutritional yeast (2 T) and a spoon of broth powder. Eat when heated.
Options: Any vegis, broccoli, tomatoes, etc... add bacos leave out vegis if you want.
EASY Salads: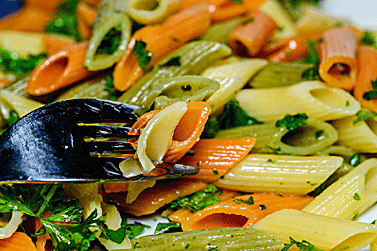 Easy Pasta salad:
Pour italian dressing over precooked pasta. Add chopped vegetables such as: Tomatoes, onions, bell peppers, Black olives, green olives, water chestnuts, cucumbers, add cubed tofu and/or vegan italian sausage. Chill.

Marinated Vegis:
Use vegis from above, plus cubed tofu, and italian dressing. Chill well. Great appetizer...
Waldorf Salad
Chop equal amounts celery, apples, grapes, add some walnuts,and vegan mayo...
Broccoli Salad:
Mix raw broccoli, with vegan mayo, a little sugar, sunflower seeds, raisins, and bacos.
Cole Slaw.
Shred cabbage and carrots. Mix in a dollop of vegan mayo, a little sugar, dash of vinegar.
Options: add apple, pineapple, other fruit, raisins, nuts
Easy SALAD DRESSINGS:
1 part Balsamic vinegar, or other vinegar, and 2 parts olive oil. To taste.
Quick French: Mix vegan mayo with a little ketchup
Vinegrette: 3/4 C oil, 1/4 C vinegar, 1 t basil, 1/4 t thyme, 1 garlic, salt and pepper.Other optional ingredients: A little mustard, agave nector, oregano, parsley, dill... ketchup, onion...
Polenta
1 C water or broth, ¼ C cornmeal, dash salt. Microwave 3 minutes, stirring half way. Or stovetop
Eat right away, like cereal, with maple syrup, or jam... or sit until firm. Or slice and fry.
Good with chili. Or top with any pasta sauce.
BASICS/SAUCES/DIPS
Easy gravy
equal amounts of margarine (or oil) and flour in pan (2 T each), Heat and stir a minute or so. Add 1 C water, broth, or Plain unsweetened soymilk. Add a couple spoons of broth powder or Salt and pepper, garlic salt to taste. Heat until thickened.
Options: add a pinch of sage.
Easy Cream Sauce
equal amounts of margarine (or oil) and flour in pan (2 T each) Heat and stir a minute or so. Add Plain unsweetened soymilk. (1 C) (ONLY soybeans and water on label) Heat until thickened. Season with Salt and pepper
Easy dips
Great for vegan chicken or seitan or baked tofu...
Hot mustard: Mix a little water into dry mustard powder.
Sweet n sour: Ketchup, jam and vinegar
---
Follow us on Twitter for quick tips and to hear when new vegan recipes are added

---

Custom Search
---
SWEETS
Dessert Fondue
Melt vegan choc chips in microwave
Serve with cake, strawberries, pretzils, bananas
shredded toasted coconut, chopped almonds or peanuts
Frozen Bananas
Peel bananas and insert a wooden stick. Freeze hard.
Melt vegan semi sweet chocolate chips. Poor or dip to coat bananas.
Sprinkle with nuts or toasted coconut if desired. Set back in freezer until chocolate is set.
Easy Caramel corn
Melt: 1/4 C vegan margarine, Add 1 C brown sugar and 2 T water . Boil 2-3 minutes.
Pour over 1 package popped microwave popcorn. Stir with wooden spoon.
Add dash of salt if unsalted popcorn
Easy Rice pudding
Cover cooked leftover rice with soymilk. Add a couple spoons of sugar and some cinnamon. Dash of salt.
Microwave a few minutes, stirring every minute or two, until thick.
Or heat on stove top. Add a dash of vanilla. And a spoon of vegan margarine (optional) for richer. Add more sugar/cinnamon to taste.
Super Easy sorbet
Put a can of fruit in the freezer a few hours or over night. Process it smooth. Add agave or sweetener if desired. (Easiest if you remove the fruit to a tupperware first)
Quick Chocolate shake
Use pre frozen, sliced bananas. Place in blender and cover with soy milk or favorite vegan milk. Add a couple tablespoons of chocolate syrup and blend.
Bon Appetite!
---
Want to help keep Veganwolf up and running? 100% of Donations help maintain this site, and go only for promoting a vegan way of life.
(Clicking on Google Ads and Gourmet Ads also helps...)

Have a great day!